If you love to be outdoors, but also have a soft spot for technology like I do, then you more than likely have ran into a dead phone or camera battery before. Fortunately for us, technology has afforded us the ability to harness the power of the sun via a solar charger kit such as the Goal Zero Guide 10 Plus adventure kit.
Due to frequent trips into the wilderness and days spent climbing at the Gunks, I decided I had a need for a solar powered charging device to keep my phone and camera fully powered during these outings. In the past few years, Goal Zero has made quite a name for itself in the adventure related power and lighting niche' so with that in mind, I decided to give there entry level solar kit a chance to fill my power needs.
 
What's In The Box
Nomad 7M Solar Panel
Guide 10 Plus power pack
4 Rechargeable AA Batteries
12v DC Cord
USB to Mini-USB Cord
AAA adapter
Mini S Carabiners X2
Cost
$94.89 – Goal Zero 41022 Guide 10 Plus Solar Recharging Kit
Who Is This For?
If you find yourself outdoors on a frequent basis and need access to power for your devices, this is a great kit to have. Day hikers, casual photographers, campers, and backpackers will all benefit from this solar charger kit. If you're power demands require a bit more such as powering lighting or a laptop, you may want to look into some of Goal Zero's more powerful offering since the Guide 10 Plus won't be able to handle those loads.
Ease Of Use
There really isn't too much to this setup. That being said, there are a few ways you can use it. The Nomad 7 solar panel can offer standalone power via the 12 volt port as well as the usb port. On a sunny day in direct sun, this will allow you to charge your cellphone without the need for the Guide 1o power pack, but if the sun is less than optimal or you want to bank some energy for later, hooking the solar panel into the Guide 10 is the preferred option since it will allow you to charge your phone or other device while you are collecting energy from the sun.
Another option is to charge up the guide 10 via a usb port in your car or at home before you head out so that you start up with full batteries.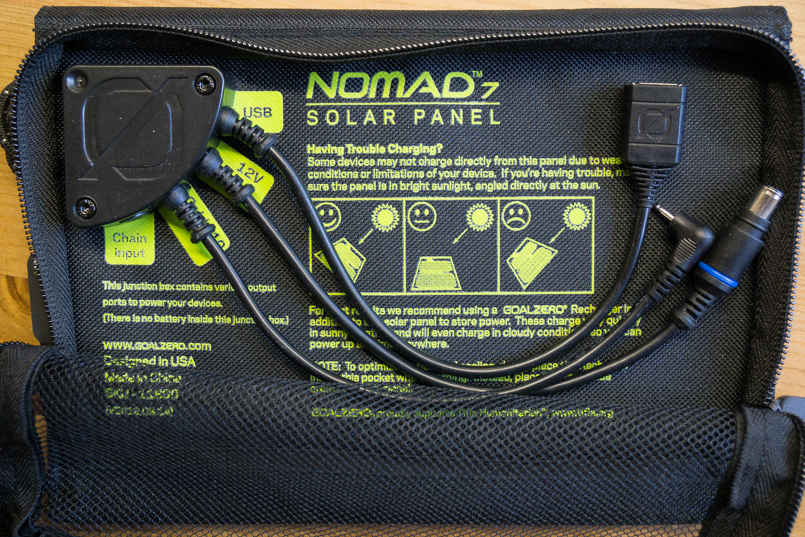 Build Quality
As with other Goal Zero products i've used, build quality top notch. Goal Zero gives their Nomad solar panels a life expectancy of 5-8 years, but with some care, I expect they will last on the higher side of that estimate. The panels are sewn into a nylon casing that folds like a notebook and is kept shut with a magnet. On the backside of the Nomad 7 is a zipper pouch that allows you to stow the wires and even the Guide 10 Plus. Attachment points are sew on pretty much every corner of the Nomad 7 which proved useful when attaching it to my backpack.
The Guide 10 Plus is lightweight without feeling fragile which is an important quality to have for an outdoor product. The swtiches and ports are conveniently placed on one side of the device and did not seem to feel loose or fragile to me. Since there will be a lot of plugging in and unplugging going on with these ports, it's important that quality components are used and it seems like Goal Zero did the job.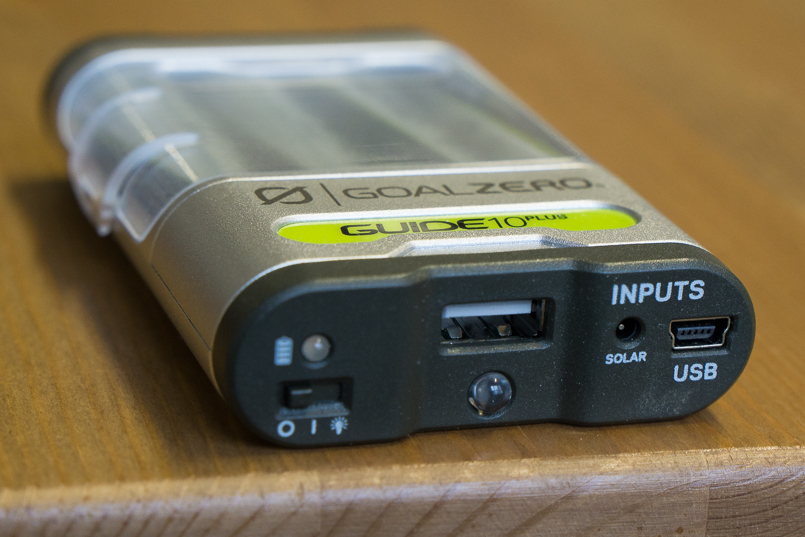 Charge Times
In the documentation, and on their website, Goal Zero quotes and estimated 3 hour charge time for the Guide 10 Plus in direct sunlight using the Nomad 7 solar panel and 6 hours to charge from USB. Those numbers sound great, but how do they hold up in the real world?
From what i've experienced with my kit, Charging via a USB port holds up pretty well at around 6 hours for a full charge, give or take a few minutes. Making it a habbit to charge the Guide 10 Plus before bed will ensure you start out any trip with a full battery, then you can top if off with the solar panel when you're in the field.
Charging via the Nomad 7 Solar panel works great, but with that being said, results may vary depending on sky conditions. I've had it take anywhere from around three hours, all the way up to eight hours to get a full charge due to often changing sun exposure. Best results of course will come when you are stationary with an unobstructed view of the sun. In those conditions, expect closer to the three hour number, otherwise expect it to be on the higher end, especially if the solar panel's position relative to the sun is constantly changing.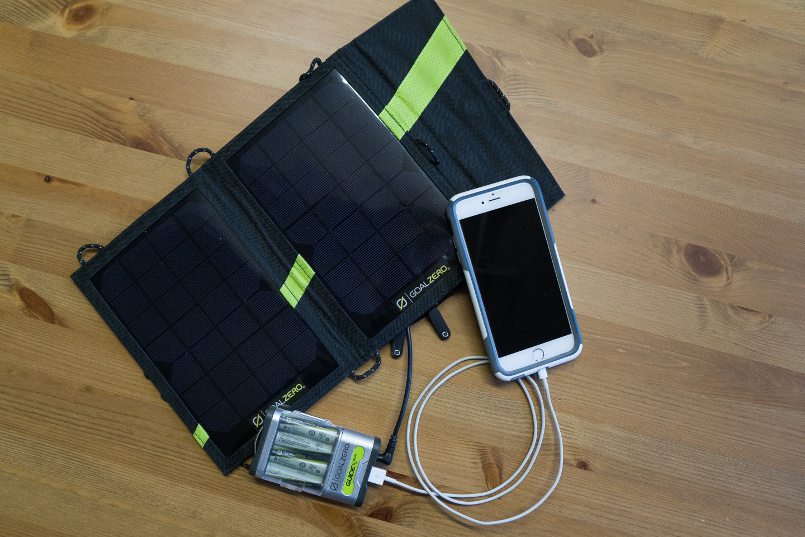 The Bottom Line
So you want to know if the Goal Zero Guide 10 Plus Adventure Kit is worth the cash? From a functionality standpoint, I absolutely think it's a great product. Everything is well made, and Goal Zero's performance claims are pretty accurate. If you find yourself in situations where you need power and don't have access to it then I think this solar charger is a solid purchase decision. At around $95 bucks, It isn't going to bankrupt you either. Do you have the Guide 10 Plus Adventure Kit? Share your experience with us in the comments.