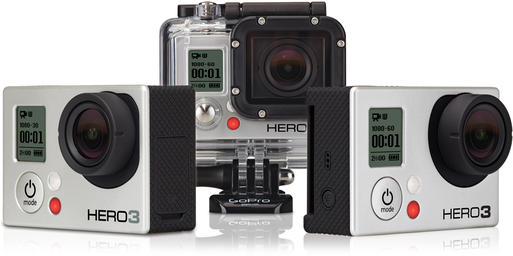 This one caught me as a bit of a surprise. GoPro, the leader in cameras for extreme sports just announced the third incarnation of their wildly popular HERO camera, simply called the HERO3.
The specs for this thing is off the chart. Boasting features like built in wifi, an f/2.8 6-element lens, better low light preformance, and 4k video resolution. All this on a 400 dollar camera. The Hero3 will be available in three different offerings, "White"($199), "Silver"($299), and the cream of the crop, "Black"($399).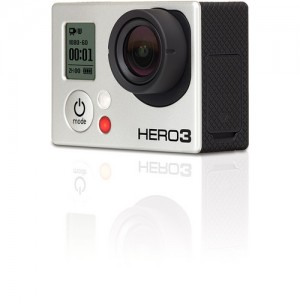 The three  new  cameras feature built in wifi, a new housing that takes cues from the recently release flat lens dive housing,  and a smaller, lighter form factor. The built in wifi will interface with the newly released IOS and Android app allowing remote framing of shots and control of the camera. The Black model will include a wifi remote, resembling a keyless entry remote for the car. This will allow you to control many aspects of the Hero3 remotely.
The Silver and White versions, while still a step ahead of the popular HERO2, Have  slower burst modes, 11mp @ 10fps and 5mp @ 3fps and both models are limited to 30fps while shooting at 1080p.
The model here that is likely to have everyones attention right now is the "Black" model. With features like 1080p video at 60fps and 4k resolution, this is likely to be the heavy hitter of the bunch. With a price like $399 it's hard not to wonder what kind of magic the GoPro team is using.
All I can say is that this was a pretty awesome surprise, and I can't wait to check this out when it becomes available next month. Check out more of the Juicy specs over at GoPro.com
Here is the official HERO3 video:
[embedplusvideo height="502″ width="843″ standard="http://www.youtube.com/v/A3PDXmYoF5U?fs=1″ vars="ytid=A3PDXmYoF5U&width=843&height=502&start=&stop=&rs=w&hd=0&autoplay=0&react=1&chapters=&notes=" id="ep9940″ /]